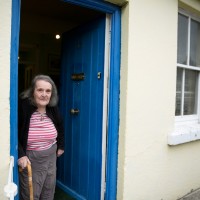 ALONE is a national organisation that supports older people to age at home. We work with those who have difficulties with loneliness, ill health, poverty, poor housing or homelessness.  We support them through these challenges and link them in with the relevant services they need to live in the community. ALONE is independent and receives no government funding for the day to day running of our services.  At the moment we have 750 active volunteers that are trained and supported by professional staff.  All our services are quality approved ensuring we are high value and low cost.  100% of all donations goes directly to providing services to older people in need.
Our Vision
Our Vision is of a society where older people are included as valued and empowered members of the community.
Our Mission
Our Mission is to support older people in need through Supportive Coordination, Befriending, Housing with Support, and Campaigns for Change. 
Our Core Values
Our Core Values are Partnership, Innovation, Dignity and respect for the individual, Transparency, Companionship, Non-Judgemental.