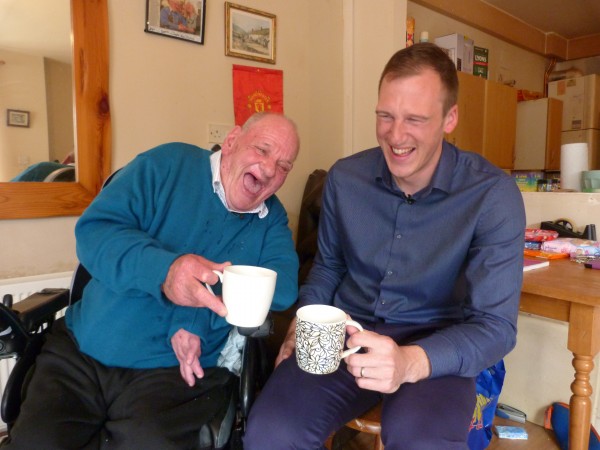 Of the many things ALONE does, befriending is one area that truly impacts the lives of each older person we work with.
Thanks to the generous donation of time from our volunteers, 750 older people in Ireland are supported by a befriending service, either on the phone or with face-to-face visits.[1]
What is befriending?
"Befriending, or to befriend, is a way of providing an informal social relationship to an isolated person who might otherwise lack social support."[2] This can be done in a number of ways from face-to-face visitation or telephone calls.
Who are our services for?
Our service is for anyone over 60 who feels lonely or isolated, or would like a friend. People who receive our support may be living alone in their own home, in social housing, in rented accommodation, in long-term care, or with family. There is no one type of person who can benefit; befriending is for anyone over the age of 60, regardless of their situation.
What are the benefits of befriending?
Regardless of a person's situation, having a new friend or companion can be beneficial in many ways, but there are barriers to overcome. Some people do not identify as lonely and so therefore they don't participate, they don't want to engage because they are deterred by the stigma attached to being lonely, or they simply aren't aware.
But the benefits of befriending far outweigh the risks. Not only does having a weekly visit combat loneliness and isolation, but social engagement has been proven to lower the risk of Alzheimer'[3]s and better cognitive function[4]. In addition to that, linking in with a befriending service can give people a sense of meaning, which can positively impact one's mental health.[5]
Befriending can also be perceived as a health intervention that makes for appropriate use of health and social care services which could combat early admission to long term care .[6]
The most important thing to understand is that you don't have to be in a certain situation to want to make a new friend–anyone can reach out and be put in touch with someone new.
To get in touch you can contact us at 01 6791032 or hello@alone.ie.
[1] Defining Befriending, ALONE document May 2017, pg 9
[2] Defining Befriending, ALONE document May 2017
[3] National Institute on Ageing 2016
[4] National Institute on Ageing (2016
[5] Kinsella 2015; Mead et al., 2010
[6] Mead et al., 2010)