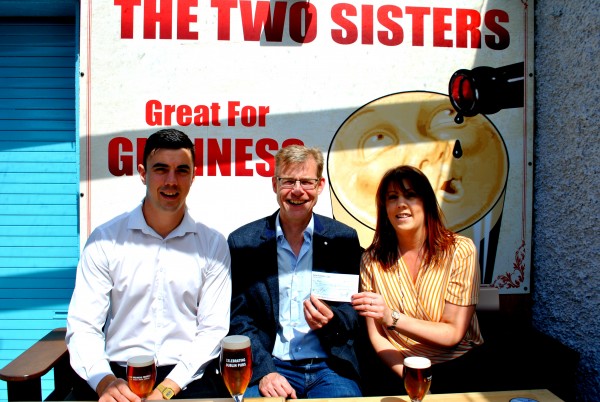 Dublin, 10th May 2017 The Two Sisters Pub, in Terenure, raised €1000 for ALONE, the charity that supports older people to age at home, through a Spring Market which was held in the pub on Good Friday. The Spring Market consisted of a variety of stalls by local craftspeople and artisan producers. Proceeds from all teas and coffees sold on the day went directly to ALONE.
Commenting on the donation, Sean Moynihan, CEO of ALONE, said, "I would like to thank Deirdre in the Two Sisters for this fantastic donation to ALONE. The Two Sisters has been very supportive to ALONE through this fundraising event and through their promotion of the Dublin Amber Pale Ale, in which fifty cent from each pint goes to ALONE."
Deirdre Devitt, of the Two Sisters Pub, commented, "We are delighted to be able to support the important work that ALONE does in helping older people to stay in their homes and remain active in the local community."
The Two Sisters Pub, as a member of the Licensed Vintners Association (LVA), is currently offering a limited edition beer, 'Dublin Amber Pale Ale', brewed by Guinness. A joint donation of fifty cent for each pint of 'Dublin Amber' sold in participating pubs will be made to ALONE by Guinness and the publican to support the expansion of ALONE's Befriending Service. The LVA launched this charity initiative as part of its bicentenary this year and hopes to raise €200,000 for ALONE.