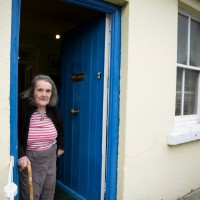 ALONE is a national organisation that supports older people to age at home. We work with people over the age of 60 to provide and coordinate access to any services they need. ALONE creates unique solutions for each older person working in partnership with all services, friends and family, giving them options for the type of support that's best for them, regardless of their situation. Supported by volunteers, we offer a range of services including: Befriending, Housing with Support, Support Coordination, Technology, and Campaigns for Change.
Our Vision
Our

Vision: 

A society where older people are included as valued and empowered members of the community.
Our Mission
 Our Mission: Enabling older people to age in the place of their choice and working to ensure quality of life and well-being. 
Our Core Values
 Our Core Values are Partnership, Innovation, Dignity and respect for the individual, Transparency, Companionship, Non-Judgemental.