We are delighted to present you with our 2015 Annual Report.  In ALONE we are committed to transparency and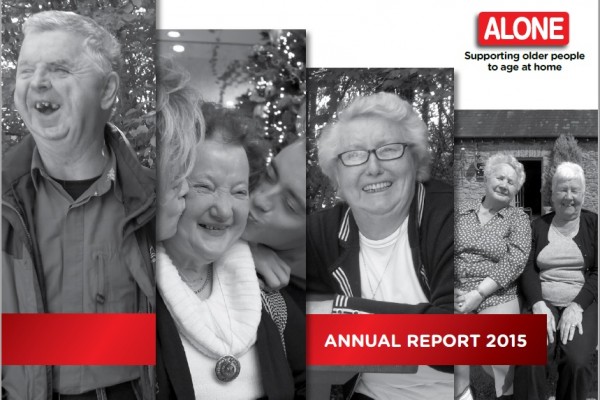 accountability to ensure that our supporters can see the work we do and the impact we make on the lives of the older people we support.
The number of over 65s living in Ireland is expected to increase from 606,000 in 2015, to 1.4m by 2046.  In ALONE we believe that in order to meet the challenges that lie ahead we must plan now for effective, high quality low cost models of services that will improve the lives of older people for years to come.
2015 was a year of enormous growth and development in ALONE as we expanded our support services nationally to face the many challenges that come from our ageing population. The issues we will face in the years ahead are complex and require equally complex solutions. Working with others in the sector we are paving the way in defining and solving these problems as they emerge. This is not an easy task but working together we can continue to meet the needs of older people as they arise and make sure the supports are in place to help them age at home.
I would like to sincerely thank the Board of Trustees, volunteers and staff for all their hard work and on their dedication to ALONE. The work of each person has a massive impact on the lives of so many older people. We ask a lot of you and you give your all to ensure we provide the quality and consistent services that older people deserve.
Next year we will continue to grow and develop our partnerships to extend our knowledge reach and our use of technology.  This will increase the level and quality of the services we provide for the older people we work with and help us continue to support them to age safely and comfortably at home. Partnerships with other organisations also ensures the best use of resources and maximum impact for the older people we help.
Thank you again for your support and we hope you will continue to support us as we try to build a brighter future for older people in Ireland.
Kind Regards

ALONE CEO