Community Fundraising
There are many ways to get your community involved with ALONE. You can particapate in a sponsored event such as a marathon or you can hold an event and sell tickets or cakes. Whatever way you want to fundraise, ALONE are here to support you and provide any materials you may need. Please email [email protected] for more information about community fundraisers or to propose a fundraising event. If you would like to fundraise online for ALONE, see our JustGiving page below.

Run or Walk
VHI Women's Mini Marathon
This VHI Women's Mini Marathon takes place Sunday the 2nd of June at 2pm in Dublin City Centre. The mini marathon is 10 kilometers and participants have the option to walk or run. To take part in aid of ALONE:
Sign up for the VHI Women's Mini Marathon here.
Email [email protected] letting us know you want to take part in aid of ALONE.
ALONE will post you out your fundraising pack including t-shirt, sponsor card, authorisation letter and tips on traing/fundraising.
Set up a fundraising page on Facebook or Everydayhero (we can show you how).
Encourage your friends and family to sponsor you.
Do the 10k on the day and meet up with the ALONE team for food and drinks!
Other Marathons
There are many walks and runs you can do in aid of charity. We have listed some below:
Hold your own fundraiser
Whether it's with your friends, with your club or on your own, fundraising events are a great way to give back to charity while also raising awareness. If you are interested in holding a fundraising event in aid of ALONE, please email us on [email protected]
If you are struggling to choose an event, please see some suggestions below: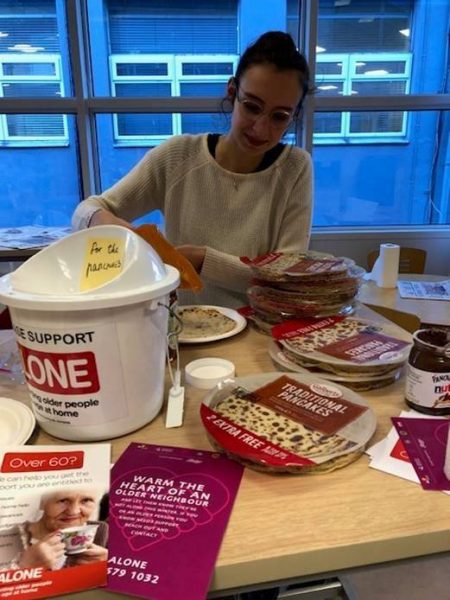 Bake sale
Concert
Pop up shop
Raffle
Bucket collection
Quiz
Auction
Coffee morning
Caroling
Scavanger hunt
Regular Giving
By making a planned monthly donation, you can support older people who are lonely, isolated, homeless, living in poverty, or are facing other difficulties.
With the Irish population dramatically ageing, we anticipate that the demand for our services will significantly increase in the years ahead. Your planned monthly donation ensures that we can continue to help the increasing number of older people who come to us for support, now and long into the future.
Legacies and In Memory
Legacies are ALONE's most important source of income. Last year legacies brought in over 30% of ALONE's income.
Did you know?
Any legacy left to a charity is exempt from tax, so ALONE would receive 100% of any gift you leave.
Here are 3 ways you can help:
When writing your will, you can remember to include ALONE. If you already have a will, you can amend it at any time to include a gift for ALONE. It's easy.
Donations of life insurance allow you to make a significant donation down the road by making modest contributions now. By purchasing a new life policy and naming ALONE as the beneficiary, the premiums paid will be recognised as a charitable gift and you will be eligible to receive tax benefits. Alternatively, by donating an existing policy, you will earn a current income tax deduction.
As an alternative to leaving a bequest you could ask that instead of flowers people make a donation to ALONE.