Day 1: Colette and Jeremy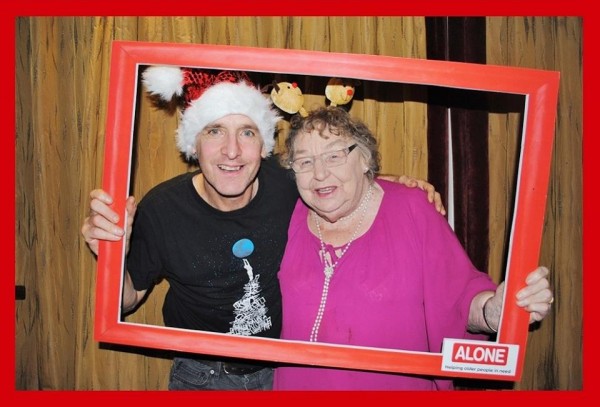 "The death of my sister was heart-breaking, and I was very shy at first. But now I feel comfortable with him – we seem to think the same way, if that makes sense."
Colette, 85
Jeremy has been Colette's befriender for an impressive seven years. Colette was first introduced to ALONE fifteen years ago when she accompanied her best friend of 45 years, Carmel, to the annual ALONE holiday. Colette first began feeling isolated when her twin sister passed away, and the loneliness grew deeper when Carmel passed a year later.
Colette was then matched with Jeremy, who had been Carmel's befriender. The two grew close and enjoyed laughing about their fondest memories of Carmel over a cup of tea.
"Jeremy is really and truly a gentleman, and we get on great. He's a confident driver, even though we've gotten lost a few times…. so I guess that makes me a great navigator!"
Although Jeremy has a family and works as a carer, he knows how important it is to make time to visit Colette. The pair love to chat over a cup of tea, and when the weather is nice they visit the Botanic Gardens.
"I can't believe it's been seven years, it doesn't seem that long at all. Me and Colette have a great laugh – she has a gift of telling a story. You learn so much as a volunteer, it's quite a privilege to hear about their lives and listen to their amazing stories. It's a lovely feeling when you develop a friendship and you certainly get as much out of it as you put in."
Day 2: Noel and Sarah-Jane
"Dublin is such a big place but when you are on your own it can be very lonely. At least I know that Noel has the visits to look forward to each week and I think that has made him more upbeat."
Sarah-Jane, ALONE Volunteer
Sarah-Jane was matched with Noel (78) in July this year. Sarah-Jane works late and by the time she visits Noel it's the evening, so they enjoy sitting back together with a cup of tea. Their first outing together was at ALONE's Christmas Dinner Dance on Sunday 29th November, which they described as "super fun!"
Volunteering with ALONE has really opened up Sarah-Jane's eyes, "I didn't realise that there are so many older people on their own". Although only getting involved in the Befriending Service since the beginning of summer, Sarah-Jane admits she would really miss Noel if the visiting ever stopped.
Noel is grateful of her companionship and thinks she's a "lovely, cheerful" girl. Sarah-Jane is proving her friendship as she plans to surprise Noel with a 'Christmas evening' in the next few weeks, where she will bring some food, Christmas crackers and presents. ALONE look forward to hearing about how the surprise will go!
Day 3: Fr. Brendan and Matthew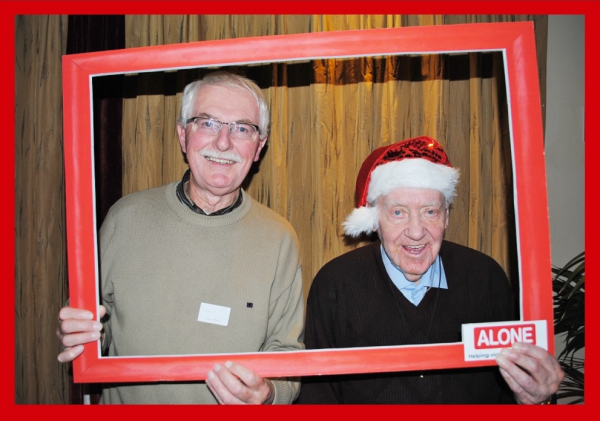 "God was very good to me. So it's good to give back. ALONE is an incredible organization, it's extremely transparent which first inspired me to volunteer."
Matthew, ALONE Volunteer
Although only matched in May of this year, Matthew has a lot to say about Fr. Brendan, 90. Fr. Brendan lives in Inchicore, however he has been around the world during his youth. Matthew describes Brendan as an "extremely interesting" man, and he enjoys listening to stories of his time in the priesthood. Even at ninety years old he still has the "memory of an elephant", as Brendan was Greek and Latin teacher in Wales for seven years.
Matthew helps Brendan out with small errands, printing letters, fixing his computer etc. They enjoy going for walks together and attended the Volunteer Ireland award ceremony 2015 last Wednesday, where ALONE received the 'Investing in Volunteers Standards Award'.
"We get a cup of coffee and go for walks- Brendan loves his ice-cream! We celebrated his 90th birthday last July. Brendan is an incredible man."
Matthew retired recently, and began looking into volunteering now he has more time to do so. Matthew chose to volunteer with ALONE as he believes it is a 'great charity':
"Myself and my wife are now volunteers at the Befriending Service and on Christmas Day we both deliver dinners with our two daughters."
Day 4: Mary and Helen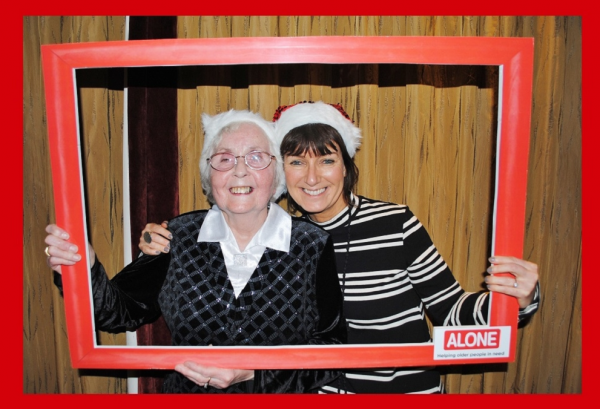 "I'm here all the time on my own. I keep the television on all the time just to hear voices."
Mary, 75
Helen and Mary have been matched since May. Mary admitted she turned down the chance to meet Helen a few times while her husband was in hospital as she found it too difficult. After her husband passed in April, Mary agreed to give the Befriending Service a chance. She recognized Helen from when she used to help ALONE give out the Christmas hampers to older people, and was happy to finally meet her.
"Sometimes I go out and sit in the front garden. The neighbours would talk to me when walking by, but not for long."
Ever since they were matched, Helen has been a "marvelous" companion to Mary. Helen and Mary often go for long walks with their dogs, Dolly and Stella, who also have become best friends. Helen went with Mary to buy a plaque in her late husband's name and will accompany her to visit his grave in a few weeks' time for Christmas. Mary is very grateful of Helen's kindness.
"When I'm with her, all we do is laugh and joke. I don't know what I'd do without her."
Helen also speaks highly of Mary who she says is a "pleasure to visit. I genuinely enjoy her company." Helen recommends the Befriending Service to everyone, and guarantees the volunteers will "genuinely get a huge amount out of the visits."
Day 5: Phyllis and Irina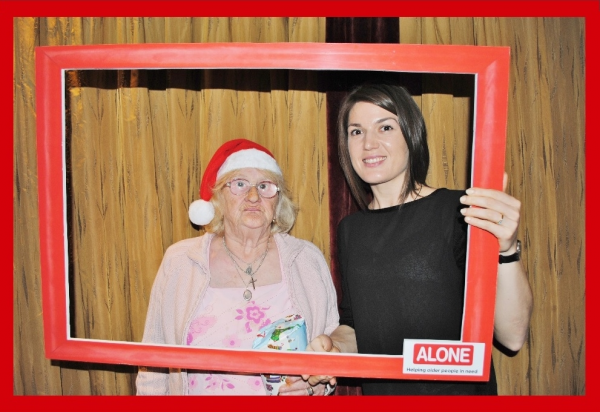 "She is a very lovely woman, we chat about anything and everything when we're together. I felt very lonely before Irina."
Phyllis, 78
Phyllis and Irina have been matched for two years now. Phyllis is generally a shy and reserved person, but her eyes light up when she speaks of Irina. Irina also admits to "feeling quite nervous" when she was first introduced, but "it didn't take long for us to feel comfortable together."
Irina loves the feeling of being an ALONE volunteer. She has a busy lifestyle as a full time student working part time, but that doesn't stop her from visiting Phyllis, who she now calls 'my granny'. The two keep in touch regularly, talking on the phone as well as the weekly visits.
"It is the best experience of my life. Phyllis doesn't need much to be happy, just spending time together does makes her happy usually. Expressing her gratitude has me feeling joyful."
ALONE would like to wish Irina the best of luck sitting her exams this week. We know you'll ace it!
Day 6: Marie, Noelene and Donal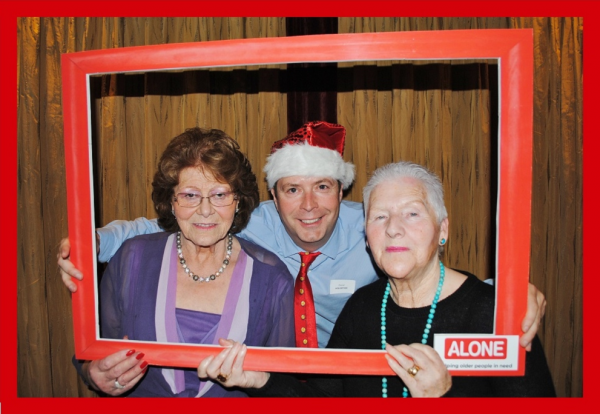 "I wasn't going out, and my confidence was gone completely. It's great to have the support. The time flies by when Donal is here."
Marie, 72
Donal was matched with Marie and Noelene, 70 just six weeks ago. Noelene is from one of Dublin's most historic neighborhoods The Liberties, while Marie lives in the picturesque suburban town Malahide. Both woman have different hobbies that Donal enjoys joining them in.
Ever since Marie developed back problems, she was weary of going outside. She is less nervous about going out now that Donal is there to support her as she gets around.
"He comes to my house and we sit and chat about what's going on in the world. We have a great laugh, he's so easy to talk to."
Noelene is fond of walking Donal's two dogs Milly and Wiman with him, and has grown particularly close to Weeman. Ever since her son moved to London, Noelene grew more and more lonesome. She looks forward to her weekly visits from Donal, who is a "nice man that chats away" with her.
"I've retired from the defense forces, and found the Befriending Services through the Active Retirement Association of Naas. Noelene's father had also been in the defense forces, so we have a lot to talk about there."
Day 7: Ken and Mary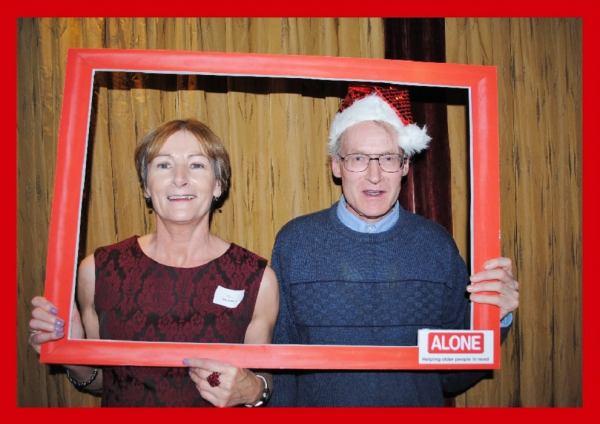 "My sister lived with me until 2001 when she passed. That's when I got a bit lonely. I miss her."
Ken, 62
Mary has been visiting Ken for three years. Every Wednesday evening they enjoy talking over a cup of coffee, and Mary regularly helps Ken with his grocery shopping in Blanchardstown Shopping Centre.
"I have elderly aunts in England, so I know how important this sort of service is to older people. I look forward to visiting Ken, volunteers definitely get the same benefits out of befriending."
Ken spends his time listening to music, particularly the Beatles and getting stuck into a good book. Mary brings him to the local library every couple of weeks to take out a few books.
"Adel, my nurse, first recommended the ALONE Befriending Service to me. Mary is very helpful and helps me pay my bills online."
Day 8: Isobel and Jacqui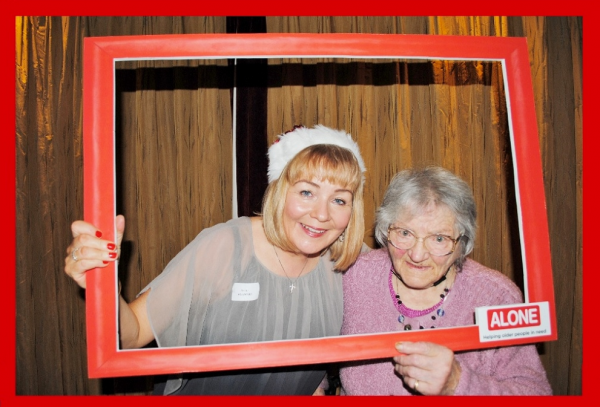 Jacqui is very open, I can really relate to her. She is a good listener when I tell her the troubles I have.
Isobel, 92
For the past three years Jacqui has made sure to visit Isobel in her home every Monday to sit and talk. Isobel admits to feeling "very lonely" sometimes but ever since she's been matched with a companion as reliable as Jacqui she feels much better.
The feeling is mutual with Jacqui, who says Isobel is a "very interesting woman. She's 92 but is always right on the ball and enjoys watching lots of sport". Jacqui is another long-term volunteer who "absolutely, whole-heartedly" recommends getting involved with ALONE's Befriending Service.
"You definitely get more out of it than what you put in. I hope to keep up with the visits for as long as I can."
Day 9: John and Dave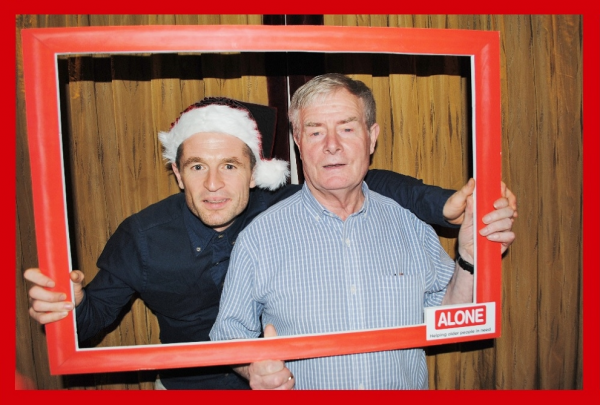 "Unfortunately we've all got to face growing old, and many of us will face loneliness. I think it's important to have someone to reach out to."Dave, ALONE Volunteer
John (69) has been matched with Dave just over a year, and the two have fun memories together already. The two often go on trips to Ikea, where John helps Dave buy things for his home as he admittedly has a bad style. Dave and John also enjoy going to the Laughter Lounge for gigs and long walks in Howth.
"Befriending John has made me value my life and health a lot more. It's the best feeling in the world helping others."
Dave and John now share a "good bond and friendship" and plan on joining one another for a Christmas meal in the next few days.
Day 10: Donal and Veronica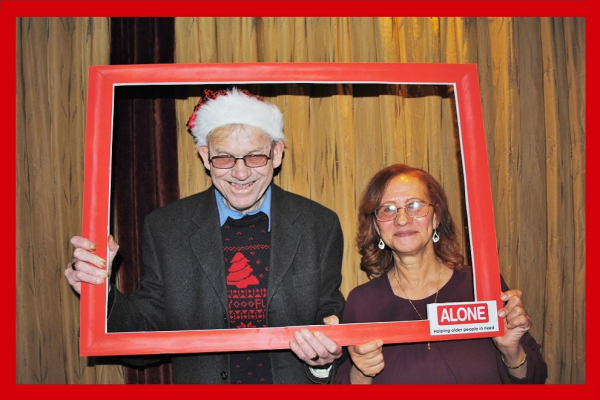 "She look s out for me when no one else can. She helps me with bits and pieces around the house, she even helps me empty my bins."Donal, 76
Veronica has been visiting Donal for the past six. Due to health issues Donal has limited mobility, and Veronica goes out of her way to make sure he feels secure and happy. She often comes in after work for a chat over a cup of coffee.
"We do whatever I would like to do that day. She's a really nice girl."
On Saturday Veronica takes Donal shopping, they buy groceries and at the moment Veronica helps him buy winter clothes for December's stormy weather. Every Sunday Veronica collects the newspaper for Donal as he likes to keep up to date on current affairs.
"I enjoy accompanying Donal to any social events he would like to attend. I have loved taking care of him for the past six years."
Veronica has recently been matched with Laura, another older person in the Befriending Service. ALONE would like to thank Veronica for all the work she's done for the past six years, and we would like to wish her and Laura luck in the future.
Day 11: Margaret, Chrissy and Fiona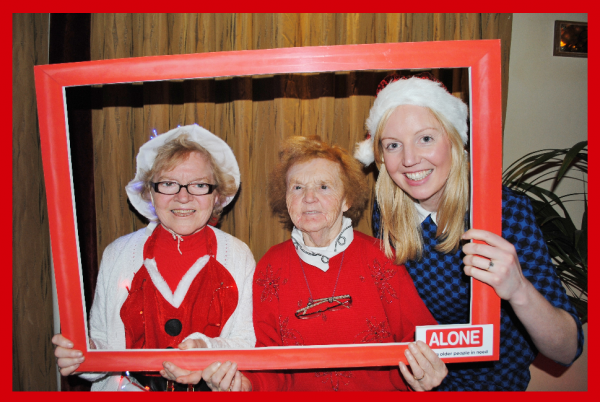 "I'd really miss Fiona if she wasn't there, ALONE is lucky to have her."Margaret, 66
Over five years ago Margaret was matched with Fiona. Fiona would often meet Chrissy, Margaret's older sister during her visits. Chrissy and Fiona really enjoyed their time together, and when Chrissy looked for a befriender Fiona did not hesitate to offer visiting the two sisters each.
Margaret owns two "gorgeous" cavalier King Charles dogs. Shanty, the older dog has own over ninety rosettes at just three years olds! Margaret adores her dogs, but admits feeling quite isolated living alone.
"Before I was just sitting there, I didn't know what to do. I felt 'locked in' living alone. Chrissy was alone all the time too."
Growing up, Fiona was very close to her Granny. This inspired her to get involved in helping older people in need.
"The wisdom that older people can provide is not to be underestimated! Befriending is a simple way to ensure that the older person in our communities are looked after and are given the respect they so rightly deserve".
Fiona's relationship grew stronger with the two sisters when she started regularly visiting Margaret during her time in hospital. Fiona then proved that she "is not only a volunteer, she is a very, very good friend." Margaret, Chrissy and Fiona have become very close, from having lots of laughs, to seeking serious advice off one another. Margaret and Fiona are planning a small get-together for Chrissy's 80th birthday later this week.
ALONE would like to congratulate Fiona, who got engaged last month. We wish you and your fiancé the best of luck in the near future.
Our 12th Volunteer of Christmas is YOU!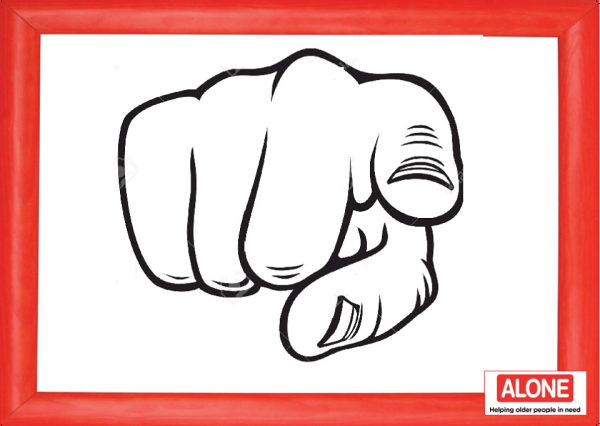 Every year the number of older people looking for a befriender grows immensely. This year we ask YOU to get involved and become a volunteer. As you can see from these real life experiences, volunteering for our Befriending Service creates a positive impact of your life and the older person's life and great friendships are made.
If you are interested in the ALONE Befriending Service be sure to find more information on our page:
From everyone here at ALONE we thank all those who have volunteered, donated and helped our charity. We hope you all had a very merry Christmas and wish you a happy new year.