PRESS RELEASE
Charity supporting older people is encouraging people to get involved with volunteering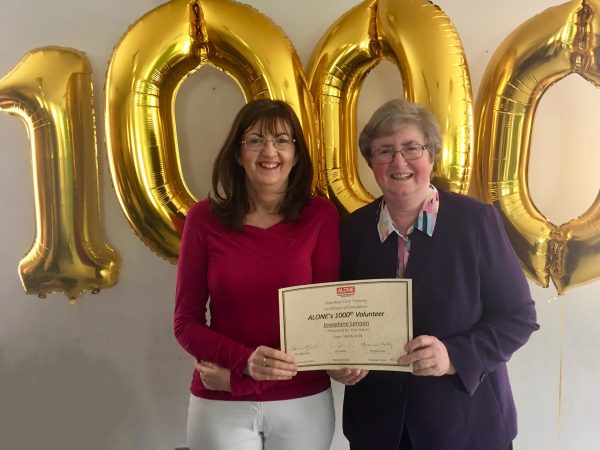 Dublin, 15th May 2018: ALONE, the charity that supports older people to age at home, is encouraging people to take part in this year's National Volunteering Week as they celebrate reaching 1,000 volunteers today.
This is a landmark achievement for the charity. ALONE hopes that even more people will be inspired to dedicate their time to helping others.
Seán Moynihan, CEO of ALONE, said, "After 40 years of service, we are delighted to be taking our 1000th volunteer on board. ALONE began as a small organisation in Dublin run by 30 volunteers. Today we have 1,000 volunteers and we help thousands of people across the country every year. Over the coming years we plan to increase this number to 9,000 volunteers so that we can meet the increasing demand for befriending and support."
"We hope that more people are encouraged by National Volunteering Week to get involved in something bigger than themselves. As our population ages, volunteers will be more vital than ever to help to combat loneliness," he said.
ALONE's 1000th volunteer, Josephine Lennon from Malahide, Co. Dublin, was presented with a certificate by ALONE's longest-running volunteer, Máire Ní Bháin, after her volunteer training yesterday evening. Máire has been volunteering with ALONE for 36 years.
"I always worked, but following a cancer diagnosis in 2014, I had to stop working. So there was a question about what I was going to do with my time, because I have lots to contribute," said Josephine. "ALONE kept coming back as something I wanted to do. Loneliness is a common experience for people who have cancer. It made me really value friendship."
"With volunteering, you get so much more back than you give. It's very rewarding. It gives you a real purpose and it helps you make a difference."
ALONE volunteers make more than 35,000 visits to older people and give countless hours of practical and emotional support, both in person and over the phone, every year. The value of volunteers to ALONE is worth more than €500,000 per year. Most of ALONE's volunteers take part in Befriending, but Volunteers also help out at events like dinner dances, cinema trips and holidays, and help with administration.
Moynihan added, "ALONE greatly values the time and effort offered by our volunteers throughout the year. We would not still be here without their dedication. It is our strong community of volunteers who allow us to help so many people each week."
"What is so special about volunteering is the benefits to both involved, particularly the relationship between the Befriending volunteer and older person. Volunteering is good for you – it keeps you active, builds communities, and can change your life," said Moynihan.
ALONE is always looking for more volunteers to expand the services and reach more people in need of assistance. For more information and to learn how to offer your time to ALONE, please visit www.ALONE.ie/contact-us.
ENDS
About ALONE
Established in 1977, ALONE supports older people to age at home. ALONE works with those who have issues with loneliness and social isolation, lack of services, poor health, poverty, homelessness or housing.  ALONE provides Support Coordination, Housing with Support, Befriending and Campaigning services to over 1,000 older people nationwide every week.  ALONE's services are quality approved and are delivered 365 days a year.
For more information contact:
Lauren Freir, Limelight Communications, lauren.freir@limelight.ie, 01 668 0600, 087 238 0853
Kathryn Byrne, Limelight Communications, kathryn.byrne@limelight.ie, 01 668 0600, 085 233 6033