ALONE was founded by volunteers and the spirit of volunteerism remains at the heart of our organisation. Volunteers are essential to our organisation and show how people in the community can look after each other.
Interested in volunteering?
Select any of the roles below to see more information, including responsibilities and tasks. For further information, please contact us.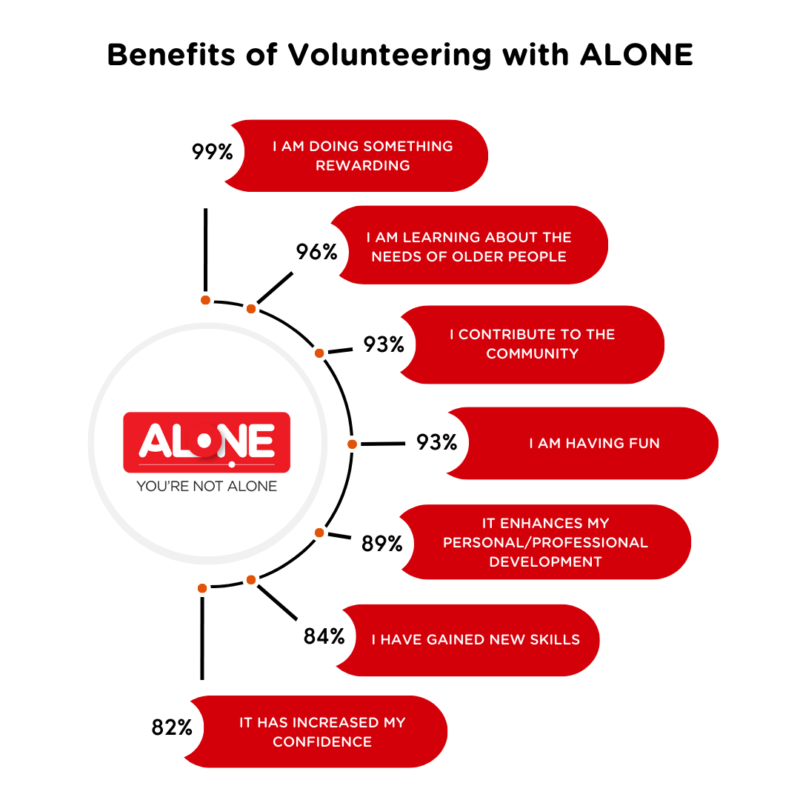 For more Volunteering stories click below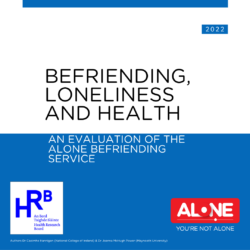 To find out more about the impact of ALONE Services and Volunteers on the wellbeing of older people read our HALO research
Make an expression of interest
You will receive an email with the role description you applied for and be set up on our database.

Complete an information session
You will receive a short presentation from ALONE about our organisation and the volunteering programme.
Take part in an interview
Our volunteer team will contact you to ask you a few questions and answer any of your queries.
Fill in our volunteer form and provide all the necessary documents
You will receive an e-mail with a form from us. We will require from you two forms of identification (one photographic, one proof of address). This is a compulsory requirement for the Garda Vetting application.

Attend the Induction to the Role training
Undergo Garda Vetting & references check
Once all paperwork is completed, you will be informed that you are ready to begin your role.

Begin role
Please note that if you apply for our Visitation Support & Befriending Role it can take some time before you will be matched with an older person.
This depends on the locations where matches are needed and the availability and areas that suit volunteers to travel to.
      Note: These steps may alter slightly depending on the role you have applied for.
We would ask that all our volunteers commit to at least:
a year of volunteering for the Visitation role
6 months of volunteering for the Telephone and NSRL roles
This commitment gives the volunteer the opportunity to have a meaningful experience while ensuring continuity of service for older people.
Quality Standards held by ALONE Volunteer Programme