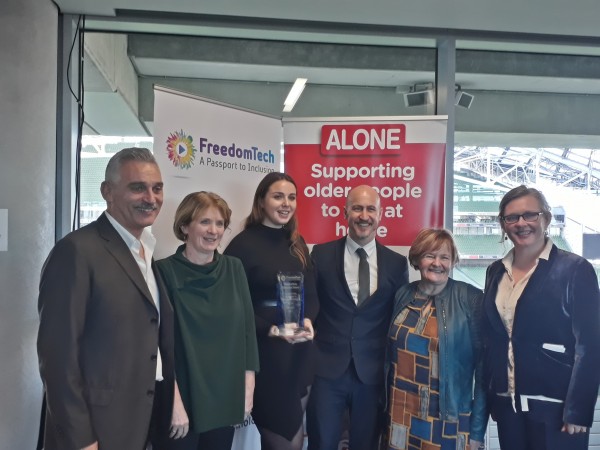 PRESS RELEASE
The award is for new technology assisting older people to age at home
Dublin, 16th November 2017   ALONE, the charity that supports older people to age at home, has been awarded the first ever FreedomTech Award at a conference on assistive technology which took place at the Aviva Stadium, Dublin, today. The FreedomTech Assembly was run by Enable Ireland and the Disability Federation of Ireland (DFI) along with support from Maynooth University and Microsoft.
The FreedomTech award was presented to ALONE for the new integrated technology platform it has developed to support older people to age at home. The ALONE platform, which was developed in partnership with NetwellCASALA, is operated through mobile apps and home sensors. The apps ask daily questions about health and wellbeing, with answers recorded on a tablet by the older person, and separately by a visiting neighbour, carer or family member. The combined answers form a unique pattern, and a change from this can trigger an intervention. Home sensors can detect if the resident has got up today, has entered the toilet or kitchen, and can trigger an intervention eg. raise an alarm that they may have fallen or are too unwell to get up.
Sean Moynihan, CEO of ALONE, accepted the award on behalf of ALONE, "I would like to thank our partners Netwell Casala, the Social Innovation Fund and Google. I would also like to thank all of our staff who have worked very hard on this project over the past 4 years. ALONE has been delivering support services to older people for 40 years and this new integrated technology platform will allow us to continue supporting older people well into the future."
He continued, "Our platform will improve the wellbeing of older people, give peace of mind to their families, carers and volunteer support network and equip existing community supports to enable them to age at home. It is also transferable and scalable, and it is our hope that it can be used to support other sectors throughout Ireland and Europe."
He concluded, "This FreedomTech award shows how an organisation can bring both change and communities together. Technology is enabling us to move away from traditional models of care towards alternative models that harness community resources and give older people, and other people using the techology, more power and control to age at home."
ENDS
About ALONE
2017 marks 40 years since ALONE was founded. Since then the charity has supported thousands of older people to age at home. ALONE works with those who have issues with loneliness and social isolation, lack of services, poor health, poverty, homelessness or housing.  ALONE provides Support Coordination, Housing with Support, Befriending and Campaigning services to over 1,000 older people nationwide every week. ALONE's services are quality approved and are delivered 365 days a year.
For more information contact:
Maree Rigney, Limelight Communications, [email protected], 01 668 0600, 086 3587153
Kathryn Byrne, Limelight Communications, [email protected], 01 668 0600, 085 233 6033