PRESS RELEASE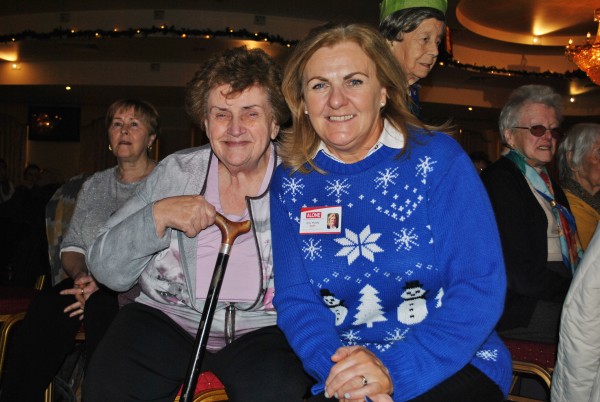 Carmel Bradley and Anne Murphy from ALONE at the Christmas Dinner Dance, 2017
29th November 2017 Over 100 older people attended the ALONE North East Hub Christmas Dinner Dance in The Carrickdale Hotel and Spa in Dundalk on Tuesday evening. This is the first of ALONE's Christmas Dinner Dances, with the other events taking place in North and South County Dublin in the coming weeks.
Older people from the ALONE's Good Morning Louth Befriending Service, Dealgan House, Castleross Nursing Home, Carlingford Nursing Home and St. Peter's Nursing Home were invited to the festive dance. Attendees were treated to a turkey dinner, with Christmas pudding for dessert, before being entertained by The Parlour Ladies Choir and an Irish dancing show, performed by students from the Scoil Rince Cosceol.
ALONE dinner dances are held throughout the year to give older people and their volunteers an enjoyable day out and a chance to catch up with each other. There is always a beautiful meal, some great music and, of course, lots of dancing.
ALONE's other Christmas activities include the delivery of hundreds of Christmas hampers to older people in need and a special Christmas Day dinner delivery for a number of older people. ALONE's services mean so much to the people who avail of them, as one older person commented; "Its great have these events to look forward to and a chance to get dressed up."
In 2017, the ALONE North East Hub has supported 530 older people to live at home and their befriending services has received over 20,000 calls. For those who have concerns about their own wellbeing, or the wellbeing of an older person in their community, the ALONE North East Hub can be contacted on 042 9330103. To make a donation and help aid ALONE's work this Christmas visit www.alone.ie
ENDS
About ALONE
2017 marks 40 years since ALONE was founded. Since then the charity has supported thousands of older people to age at home. ALONE works with those who have issues with loneliness and social isolation, lack of services, poor health, poverty, homelessness or housing.  ALONE provides Support Coordination, Housing with Support, Befriending and Campaigning services to over 1,000 older people nationwide every week. ALONE's services are quality approved and are delivered 365 days a year.
For more information contact:
Maree Rigney, Limelight Communications, [email protected], 01 668 0600, 086 3587153
Kathryn Byrne, Limelight Communications, [email protected], 01 668 0600, 085 233 6033