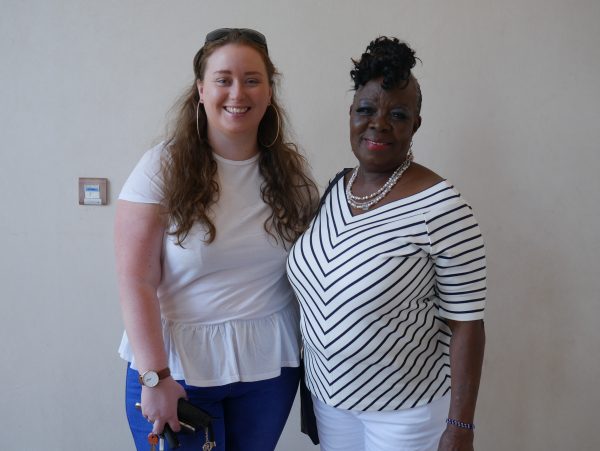 Volunteers in ALONE
Volunteers play a vital and active role in all of ALONE's services and are involved in every level of the organisation.  All ALONE volunteers are trained and receive ongoing support from ALONE's staff and experienced mentors.
Interested in volunteering?
Please click here to find our volunteering form
Volunteer Roles
Select any of the roles below to see more information, including responsibilities and tasks.  For further information, please contact us.
---
---
---
---
Process for applying
Volunteer makes expression of interest. You will then placed on an application list until next available round of recruitment. An invitation to an Information Training session will then be sent out. Attendance is required to continue to the next round.
Attendance at Information Training session. This will include a short presentation about ALONE and the Befriending role. The session will conclude with 1 to 1 interviews held by ALONE staff.
Volunteer Application Pack and invitation to Core Training session sent. The Volunteer Application form and Garda vetting form should be completed by closing date. This must be accompanied by copies of two forms of identification (one photographic, one proof of address). This is a compulsory requirement for the Garda vetting application.
Attendance at Core Training session.
Volunteer agreement and data processing form signed.
References checked.
Garda vetting application completed with Bureau. Once all paperwork is completed, you will be informed that you are ready to begin your role.
Begin role.
Time commitment
We would ask that all our volunteers can commit to at least 1 year. This commitment gives the volunteer the opportunity to have a meaningful experience while ensuring continuity of service for older people.
Volunteer handbook
Our volunteer handbook has the answers to most other questions you may have about volunteering with ALONE. You can find our handbook at this link: Volunteer Handbook
Volunteer Privacy Statement
ALONE needs to keep and process information about our volunteers to help us deliver our services, for general administrative tasks and to meet certain quality standards. We also keep this information to manage the relationship with our volunteers effectively, lawfully and appropriately. It's used during the volunteer recruitment process, while you are volunteering with us, or when you cease volunteering and up to a period of 24 months afterwards.
ALONE will always ask your permission before collecting the information about you.
As an organisation we use volunteer data to provide weekly befriending visits, daily telephone befriending calls, monthly social events and other occasional activities. However we may sometimes need to use, or share your data with others to help us meet the needs of the older people we serve. For example, during extreme weather spells we might share your first name, your number and general location to help coordinate and provide additional supports to older people, where we rely on the shared support from staff, volunteers and other groups to meet those needs.
If ALONE needs to collect any sensitive information relating to a volunteers' racial or ethnic origin, political opinions, religious and philosophical beliefs, trade union membership, biometric data or sexual orientation,  we will always obtain your  permission first.
ALONE will only share sensitive information about you with others;
Where sharing is necessary to prevent injury or damage to the health of an individual
Where it is required by law
Where it is made available to the Gardaí in relation to a criminal investigation.
If in the future ALONE intend to use your personal data for any reason other than the reason which it was collected, we will provide you with information on that new reason and any other relevant information first. Under the General Data Protection Regulation (GDPR) you have a number of rights with regard to your personal data.
You have the right to ask us for access to, correction of, or the deletion of your personal data. You have the right to limit processing, object to processing as well as in certain circumstances, the right to data portability (data portability means we provide you with your data in a format you can use elsewhere). If you have provided consent for the processing of your data, you have the right to withdraw that consent at any time.
You also have the right to lodge a complaint to the Data Protection Commissioners' Office, if you believe that we have not complied with the requirements of the GDPR with regard to your personal data.
For the purpose of the GDPR, ALONE is the controller of volunteer data. If you have any queries as to how your data is processed you can contact: Data Protection Coordinator by email at: [email protected], or you can write to the Data Protection Coordinator using the address; ALONE, Olympic House, Pleasants House, Dublin 8.